"Convenience" is our middle name — bank for free anywhere, anytime with your computer, tablet or smartphone.
Online Banking & Bill Pay
Online Banking
Free, 24/7 online account access
Manage your accounts from just about anywhere
Conduct several transactions quickly and securely:

View your balance
Transfer funds
Make credit card payments
And more!

Save time with fewer trips to the branch
View images of cleared checks
Secure and easy-to-use service
Bill Pay
Accessible via online banking
Pay one-time or recurring bills with ease:

Schedule payments in advance
Set up payment reminders
Ensure payments are received on time

Save money on postage costs
Have all payee information in one, convenient place
Reduce paper clutter
More secure than paper billing
Make more time for yourself with fewer trips to the branch
Secure and easy-to-use service
Mobile Banking with Mobile Deposit
Mobile Banking (Remote Deposit feature will be incorporated into this app 10-29-2019)
Free, on-the-go banking with your mobile device*
Available to all Chemcel FCU online banking users
Accessible via mobile browser or free app
Manage your accounts from just about anywhere:

View your current balance
Transfer funds
Pay bills
And more!

Save time with fewer trips to the branch
Secure and easy to use
Mobile (Remote) Deposit
Deposit checks 24/7, from anywhere, for free*
Available to all Chemcel FCU online banking users
Accessible via free app
Please review our Remote Deposit Agreement.
Home Banking/Mobile Security
Multifactor Authentication (MFA) - Enhancing your Online Security
We routinely enhance our online security measures to help keep your account safe. MFA is a security system that requires more than one method to verify user's identity for log in or to perform certain transactions.
Key Takeaways:
CFCU uses MFA to protect member accounts.
Your secure access code can be confirmed via text or email.
REMINDER:
One of the keys to MFA is having accurate contact information on file at CFCU so you can authenticate your log in. If we do not have the correct phone number or email, you may not be able to log in to online or mobile banking.
MFA Process:
If the MFA does not recognize the device or browser or detects uncharacteristic or unusual behavior, an extra layer of security is triggered, requiring you to take additional steps to verify your identity.
When the MFA does not recognize your device:

A verification code will be sent to you by text or email that is on file with CFCU
In most cases, future log ins from a registered device will not require MFA

After receiving the verification code, enter it in the provided field and click "continue"
Best Practices for Keeping Your Online Accounts Safe:
In addition to the protections CFCU has in place, we encourage you to use these best practices to help keep your online accounts safe. Take a look at your passwords:
Change your passwords frequently or if you have the slightest suspicion the password has become known
Never tell it to anyone… Never write it down
Monitor your accounts regularly through online and mobile banking and account alerts, looking out for suspicious activity
Keep apps and devices up-to-date with the most recent system updates
Run anti-virus software and make sure your firewall is turned on
Avoid unsecured wireless access points – like public WiFi hotspots
Avoid clicking on links in unsolicited emails
Tips to Create Strong Passwords
Make your passwords longer and stronger – at least 11 letters, numbers and special characters
Use a mixture of upper and lower case letters, numbers and special characters (! @ # ?)
Embrace the Passphrase

Use a phrase that only you know that is at least 11 characters long.
A strong password is hard to guess but should be easy to remember – if the password has to be written down it is not strong.
Think of a word or phrase, then substitute the letters with numbers and special characters and mix case.

"Serving members since 1951" = S3rv!nG@!(5!
"Your signature is as good as gold" = Ur$G00#g0!#AU
Mobile Deposit FAQ
What are the requirements to use Remote Deposit Capture (RDC)?
You must deposit to a CFCU checking account
The checking account must have been opened for 90 days
No more than 3 NSF in a twelve month period
No CFCU loan more than 30 days past due
Business checking accounts are not eligible
E-statements are required
User must be at least 18 years of age
Is there a cost to use RDC?
There is no charge for Mobile Remote Deposit Capture. However, mobile carriers may charge for internet access and/or text messages. Please check with your carrier for any charges that may occur based on the usage of CFCU's Mobile Remote Deposit Capture service.
When are checks deposited?
A check received before 3:00 pm CST will be deposited the same day. Any item received after 3:00 pm CST will be deposited the next business day.
Is a special endorsement required for RDC?
Yes, a special restrictive endorsement is required for any item deposited through RDC. The failure to use the restrictive endorsement will cause the item to be rejected for deposit.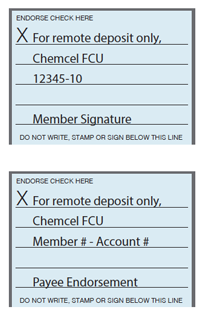 What checks are not eligible for deposit through RDC?
Checks or items payable to any person or entity other than you;
Checks or items drawn or otherwise issued by you or any other person on any of your accounts or any account on which you are an authorized signer or joint account holder;
Checks or items containing obvious alteration to any of the fields on the front of the check or item, or which you know or suspect, or should know or suspect, are fraudulent or otherwise not authorized by the owner of the acct on which the check or item is drawn;
Checks or items previously converted to a substitute check, as defined in Reg CC;
Checks or items drawn on a financial institution located outside the United States;
Checks or items that are remotely created checks, as defined in Reg CC;
Checks or items not payable in United States currency;
Checks or items dated more than 6 months prior to the date of deposit or;
Checks or items prohibited by Chemcel Federal Credit Union's current procedures relating to the Services or which are other wise not acceptable under the terms of your Chemcel Federal Credit Union account.
Do I need an e-mail address on file with CFCU?
Yes, a valid e-mail address is required if CFCU needs to contact you regarding a remote deposit.
When are funds available?
Generally, CFCU will use the normal Reg CC holding periods. However, CFCU reserves the right to use extended holding periods under certain circumstances.
Are there deposit limits?
The standard limit is:
Max. Amount per Deposit: $ 2,000
Max. Items per Deposit: 1
Max. Deposit Amount per Day: $ 4,000
Max. Items per Day: 10
Rolling 30 day Amount Limit: $ 20,000
CFCU may alter these limitations on a per member basis.
What to do with a check after being deposited through RDC?
You agree to prominently mark the item as "Electronically Present- ed" or "VOID" and to properly dispose of the item to ensure that it is not represented for payment. You agree to secure each original check for a period of sixty (60) days after you have acknowledged acceptance and provide CFCU the original or full copy if needed to resolve a collection dispute.
Will all checks scan through RDC?
The RDC process relies heavily on the quality of the check and the ability to capture a clear image. Checks with a multi-color or com- plex background may not scan easily. A check where the written amount is not clear or overwritten may have difficulty during the scan process. A check that has a damaged MICR line at the bottom of the check will cause quality issues. In these cases the check will need to be mailed or negotiated at a branch location.
Are there other issues I should be aware of with RDC?
Yes, the information provided in the FAQs highlight some of the RDC requirements. You should thoroughly read the Remote Deposit Capture User Agreement you accepted when you signed-up to use RDC. (See other page for the Agreement)
Text Messaging
You can also sign up for text message banking on your cell phone. This secured service is free-of-charge at Chemcel, but please check with your phone provider for their charges on text messaging.
Through text messaging, you can:
Get account balances
Transfer money
Find out the last 5 transactions posted to your account
And much more
*Wireless carrier data rates may apply.